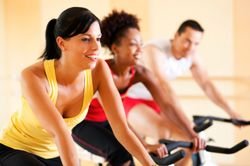 By their very nature, sports and other kinds of recreational activities are inherently risky ventures for your entire body, none the least being your neck, spine, joints, and muscles. If you or your children are active participants, proper body conditioning is as essential as the equipment used in these kinds of activities.
High-risk sports
Though there is no such thing as a "safe" sport, highly competitive sports, such as football, weightlifting, gymnastics, and wrestling, pose particularly higher risks of injuries, especially among children.
According to experts, as much as 20 percent of all sports-related injuries involve the lower back or neck. Running and weightlifting, and other sports that involve repetitive impact, expose children to a high risk for lumbar (lower back) injuries. Contact sports, such as soccer and football, expose the cervical spine (neck) to injury. More than one-third of all high school football players sustain some type of injury. Soccer participants are easy candidates for mild to severe head traumas, neck injuries, cervical spine damage, headache, neck pain, dizziness, irritability, and insomnia. Heading the ball, the act of using the head to re-direct the soccer ball, has been linked with cervical injuries in children and adults. The trampoline and gymnastics also present significant risks for spinal cord injuries from unexpected and brute falls or contact with hard surfaces
Proper conditioning
There is no substitute for proper conditioning, both long-term and just before play, and its role in preventing injury or minimizing the impact of injuries sustained during participation.
Here are some warm-up tips:
Low-impact activities, such as walking, will help gradually increase the flow of warmed blood to the muscles and ligaments of the back. This helps to prepare those muscles for the work they'll be called on to do during the activity.
To prepare for winter sports, such as skiing, skating, sledding, and tobogganing, do simple squats, lunges, and knee-to-chest stretches.
Simple lower-back and upper back stretches, as well as hamstring and quadriceps stretches, can help you stay flexible and limber.
After you have finished playing, don't ever neglect the all-important cool-down, which allows your muscles to return to their normal relaxed state. Without this important step, you run the risk of having your muscles tighten up or cramp
Treating injuries
Even so-called minor sports-related injuries may require that you seek medical treatment.
For minor injuries, such as sprains or strains, follow the RICE (Rest, Ice, Compression, Elevation) protocol. Apply ice on the site of a minor sprain or bruise at least until any noticeable swelling has dissipated. Avoid keeping ice applied for more than 20 minutes because ice can actually begin wearing out your blood vessels, which in turn, increases the likelihood of additional swelling. After an hour has passed, re-apply an ice pack to the site if pain or swelling has not gone away. Make sure to contact your physician if pain or swelling persists.
Tips for your kids:
Always strive to maintain the recommended weight for your child's age and size' not the rigors of the sport.
Be wary of so-called energy or power bars. Don't allow your child to load up on candy bars or carbonated drinks before or during a game. These foods will sap energy. Sports drinks are a better alternative.
Encourage proper conditioning, including a supervised weight-training program.
Ensure your child is well-rested before an event. A tired body is much more prone to suffering an injury.
Insist on warm-up exercises before any sports activity.
Invest in and wear proper equipment, including safety equipment such as mouth guards, shatterproof goggles, and elbow and kneepads. If any equipment is excessively worn, replace it immediately.
Never forget the importance of proper nutrition (avoid high-fat foods, such as candy bars and fast food) and hydration (at least 8 to 10 glasses of water a day).